Android, iOS and Webapp development
This is where the real challenge lies for all businesses: reach all your mobile clients and users by also providing them with innovative and effective services.
Neting's App Developers have acquired a long and solid experience in the development of Corporate Apps for Android, Apple and iOS devices, both native and cross-platform, as well as webapps.
We develop iOS apps for iPhone, iPad, Watch. Apps for Apple designed and implemented by developers with proven experience.
Effective and visually pleasing applications and Android apps. Apps for all Android devices, tablets and smartphones, ecommerce and B2B.
We design and develop apps and webapps, cross-platform mobile applications in Ionic, Unity, React and Accelerator.
We make your App.
Beautiful to look at, easy to use.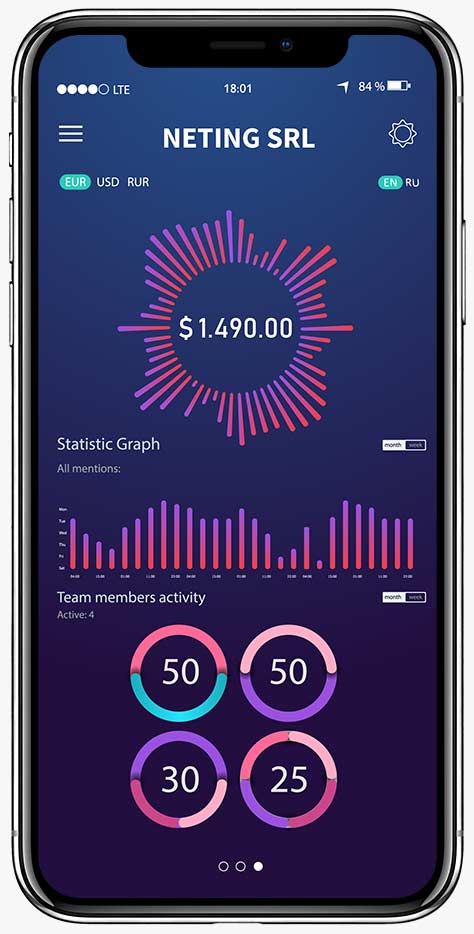 Sviluppo App e Soluzioni per il mobile
I programmatori e sviluppatori mobile di Neting hanno consolidato una forte esperienza nello sviluppo di app aziendali e professionali. Con all'attivo decine di app aziendali, Neting può sviluppare app native, cross-platform e webapp HTML5

Esperti nello sviluppo di Apps iOS, Apps Androids, Apps Windows, Applicazioni Web Mobile.
Un sistema di Soluzioni Digital, dallo sviluppo web alla promozione del Brand Online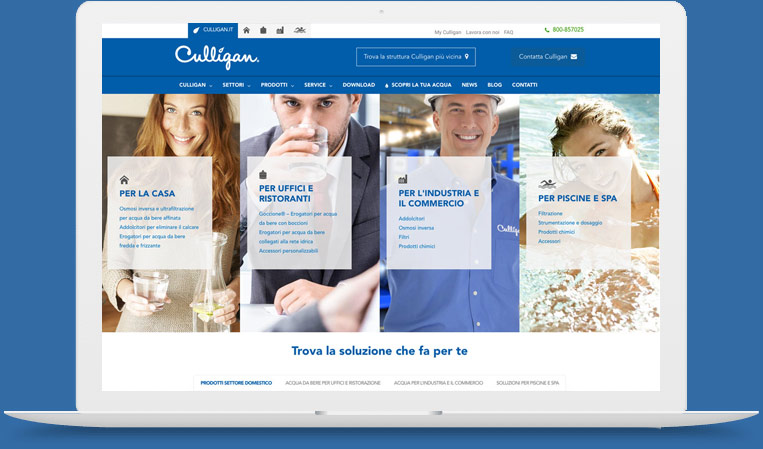 Piattaforme Web ed Applicazioni mobile per la forza vendita e lo shop online.
Corporate App Development
A Corporate App can improve the operational phases of your organization, driving your strategic processes straight in the users' hands. Apps for the sales force, corporate catalogs, business intelligence apps, elearning apps and much more.
Attractive Design and UI/UX Apps
An eye-catching look, quick and modern interfaces to use, both with or without connection. Our visual designers create user experience (UI/UX) for Android, iOS and Windows mobile devices, for both smartphone and tablet versions.
"Competenza tecnica, professionalità e creatività con forte spinta innovativa nell'individuazione di soluzioni sistemistiche e tecnologiche smart e funzionali."
"Ci siamo rivolti a Neting per realizzare il nostro nuovo sito aziendale, integrando applicazioni di e-commerce e di SEO. Gli obiettivi sono stati raggiunti secondo i tempi prestabiliti, con massima professionalità e flessibilità. Abbiamo trovato in Neting un partner affidabile con cui affrontare le prossime sfide."
"La mia azienda si è rivolta a Neting per un lavoro coordinato e integrato di realizzazione grafica del sito Web, inserimento e aggiornamento di contenuti, Seo e diverse attività di web marketing. I risultati sono stati e lo sono tuttora ottimi"
"Elevata competenza, rapidità nell'esecuzione, risposta immediata ai diversi cambiamenti resi necessari dal rapido evolversi delle scadenze e dal nutrito programma scientifico e sociale, hanno caratterizzato Neting per tutto il rapporto di collaborazione"
Google Play and Apple Store release
We will take care of all the necessary activities for the release of your project. We will manage the publishing of your App directly on Google and Apple marketplaces, both for free and paid Apps. We develop custom applications for Corporate Apps, with enterprise distribution, by managing their delivery to all employees through Mobile Device Management.
Apps are fundamental tools for companies to reach your customers on the move
Restyling and Maintenance of Existing Apps
Apps can quickly become outdated due to new technologies that enter the market, this is why we help our customers to keep their Apps effective and performing over time.
We ensure the maintenance and constant updating of Apps, in order to guarantee the correct adjustment to market innovations and the upgrade of mobile native SDK
In questi anni abbiamo avuto la soddisfazione di lavorare con molti Clienti, sempre con il desiderio di imparare qualcosa di nuovo e costruire qualcosa di unico. A volte pensiamo di esserci riusciti. Alcuni Clienti hanno voluto ringraziarci cosi
Ogni Grande Progetto nasce da una piccola idea e dalla capacità di ascoltare e condividere una visione. Raccontaci la tua idea, potrebbe essere l'inizio di un viaggio appassionante. Contatta un consulente Neting ora.